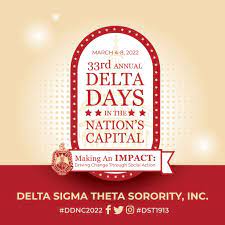 NCRC's Dedrick Asante-Muhammad To Present: Closing The Racial Wealth Gap
Dedrick Asante-Muhammad – NCRC's Membership Policy, and Equity Chief – will join 
Delta Sigma Theta Sorority, Incorporated for its 33rd Annual "Delta Days in the Nation's Capital,"on Sunday, March 6, 2022, from 1:00 PM – 2:15 PM ET to serve as a workshop presenter for the workshop entitled: Closing the Wealth Gap.
The objectives of this workshop are:
To clearly define the racial wealth gap and the impacts it has on the current climate of the Black community
To highlight fair/equitable housing, the fight for livable wages and student loan debt
To provide advocacy strategies to address said topics
Delta Sigma Theta Sorority, Incorporated is a service Sorority comprised of over 350,000 initiated members in over 1,000 chapters across the United States and abroad. The Sorority provides an extensive array of public service programs and projects through its Five-Point Programmatic Thrust, which encompasses Economic Development, Educational Development, International Awareness and Involvement, Physical and Mental Health, and Political Awareness and Involvement.